Madrid is rarely top of the list when people consider trips to Spain. It should be. True, it does not have Gaudi's architecture or...
Madrid is rarely top of the list when people consider trips to Spain. It should be. True, it does not have Gaudi's architecture or the beaches of the coast. But the capital city is second to none when it comes to pure energy and vibrancy. With a superb art scene, a restaurant community to die for and an ever-improving selection of accommodation, it's hard to beat for a weekend away. And, playing host to the Champions League final between Tottenham and Liverpool on 1 June, there's never been a better time to visit.
What to do
Get your art fix
Art lovers should head straight to the so-called Golden Triangle of Art, taking in three world-famous museums. United by the main boulevard Paseo del Prado, it is an easy walk between them. At one end stands Museo Nacional Centro de Arte Reina Sofia, a treasure trove of modern art. Don't miss its most famous piece, Picasso's Guernica, portraying the horror of the Spanish Civil War. A short stroll away, Museo del Prado holds around 27,000 works of art, among them great European masters including El Greco, Goya and Velazquez. Completing the triangle is the Thyssen-Bornemiza, which features great examples of impressionism and cubism from artists including Rubens and Caravaggio.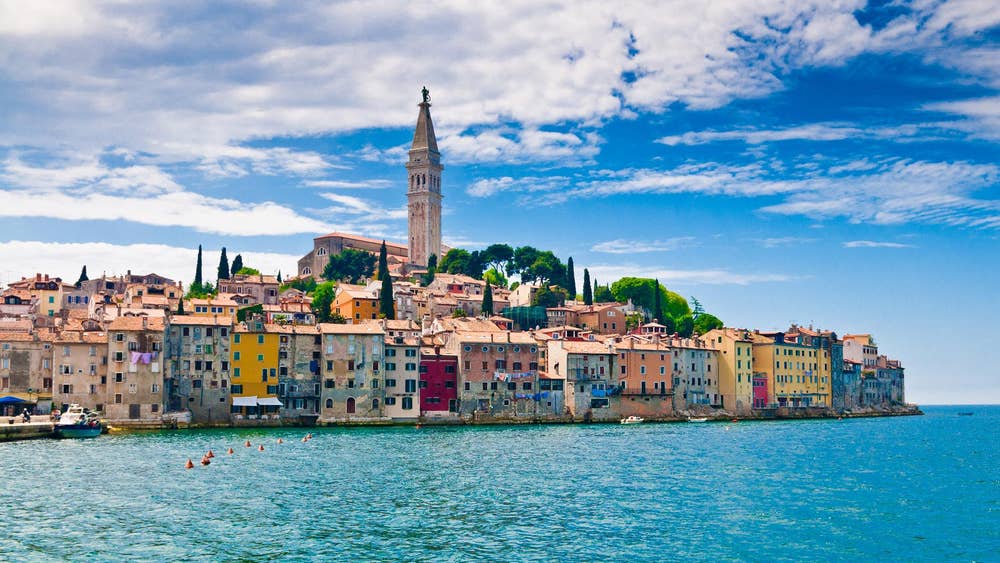 Park life
Behind the Prado is the biggest open space of the city, the Retiro, a beautifully sculptured park. Spread across 125 hectares, it offers a welcome chance to wander among 15,000 trees, sail a boat on the lake and take in the rose garden plus an array of sculptures. Join the locals taking a stroll here on Sunday afternoon.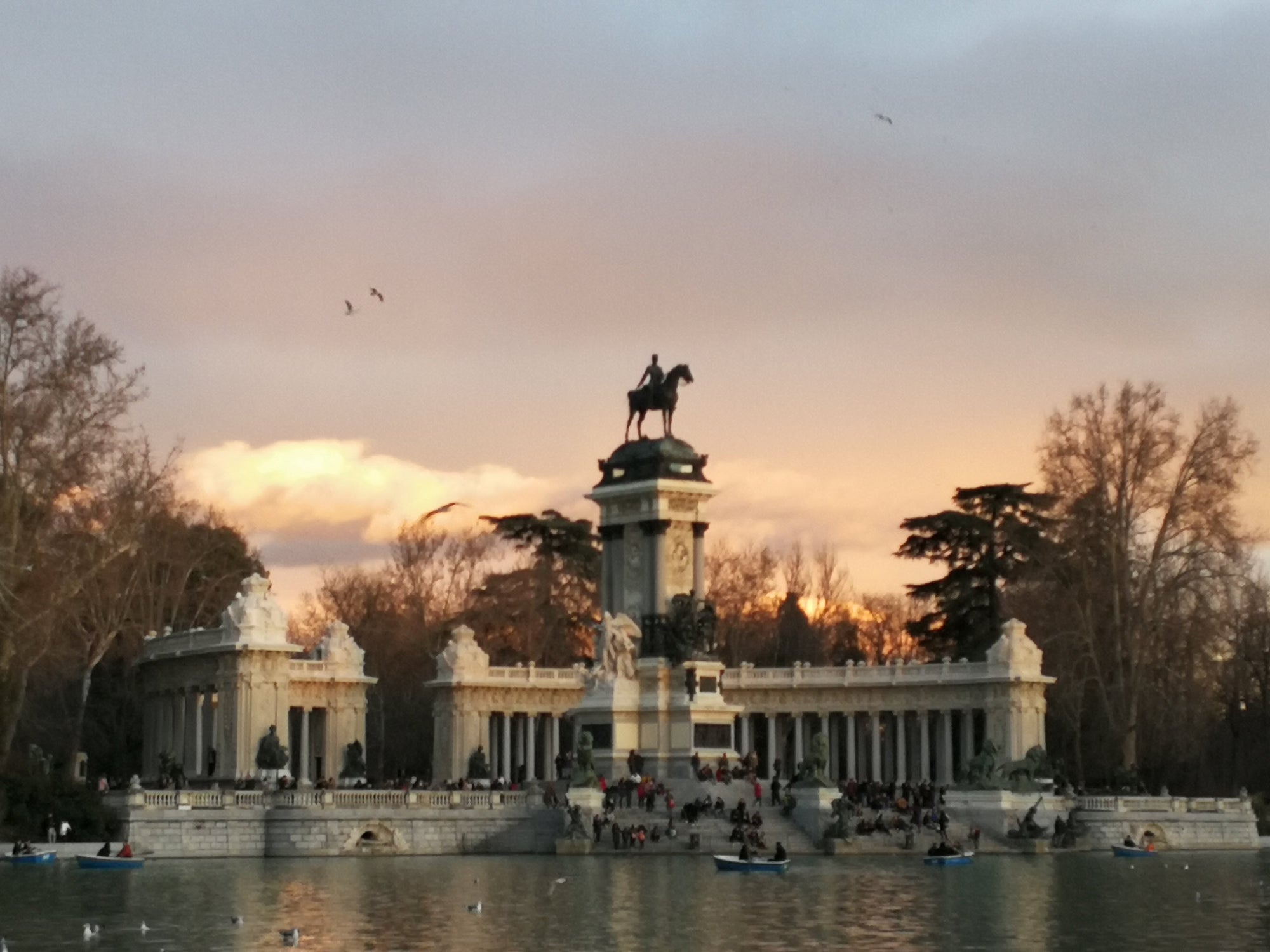 Walk the city
Madrid is essentially made up of a series of neighbourhoods, each with their own character. With a compact centre and myriad squares, Madrid is a joy to explore on foot. Puerta del Sol, literally the central point of the country – with a plaque to prove it – sits surrounded by shopping streets on one side and a maze of bars and restaurants on the other. Take in the main artery of central Madrid, the majestic Gran Via, by walking from the Cibeles fountain – famous for being the site of Real Madrid's celebration whenever they win an important trophy – all the way to Plaza de España at the other end.
Where to stay
Totem Hotel in the plush Salamanca neighbourhood guarantees a stylish stay in comfort. Housed in an old residential building, which has been immaculately restored, rooms are spacious and come with organic toiletries, bespoke mini bars and sound insulation. Doubles from €145, B&B.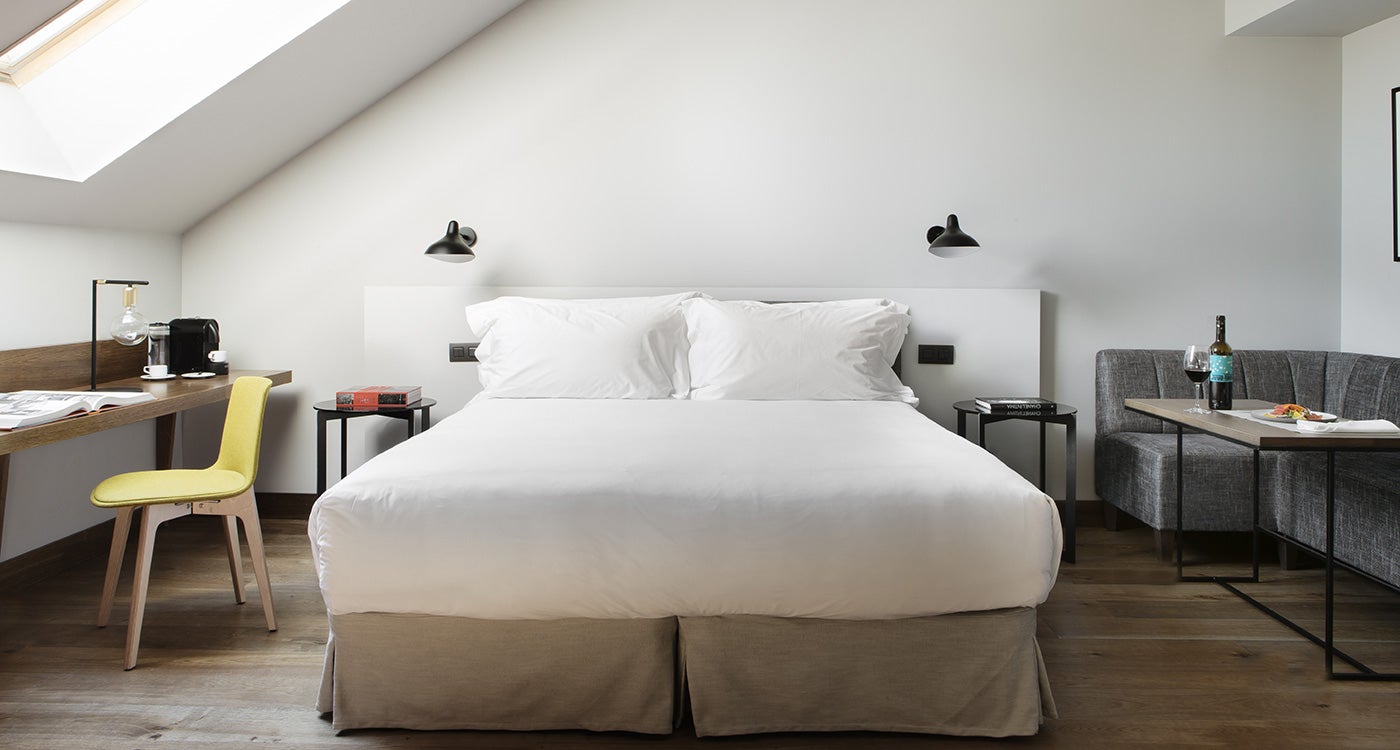 For an affordable boutique experience head to one of the four hotels in the Room Mate group, all with their own characteristics and name. Room Mate Alicia, located in an old industrial building right in the centre on the gorgeous Plaza Santa Ana, offers 34 light, bright and modern single and double rooms along with a selection of suites. Doubles from €99, room only.
Something of a veteran on among Madrid hotels, Urban Hotel is a stone's throw from Puerta del Sol, offering glamour and style in spades. Set around an impressive central lobby, Urban features two restaurants – one of them with a Michelin star – and a rooftop bar. There's an outdoor swimming pool and fitness centre too. Doubles from €209, room only.
Where to eat
The food scene in Madrid is a revelation – after many years with the culinary attention focused on Barcelona and the Basque Country, Madrid is enjoying something of a golden era.
For a culinary journey around the tastiest produce from across Spain, head to Arzábal near the Retiro Park. Eat your way through an impressive menu of meticulously sourced food that reads like a greatest hits of Iberian cuisine. The owners are especially proud of their seasonal offerings – and with good reason.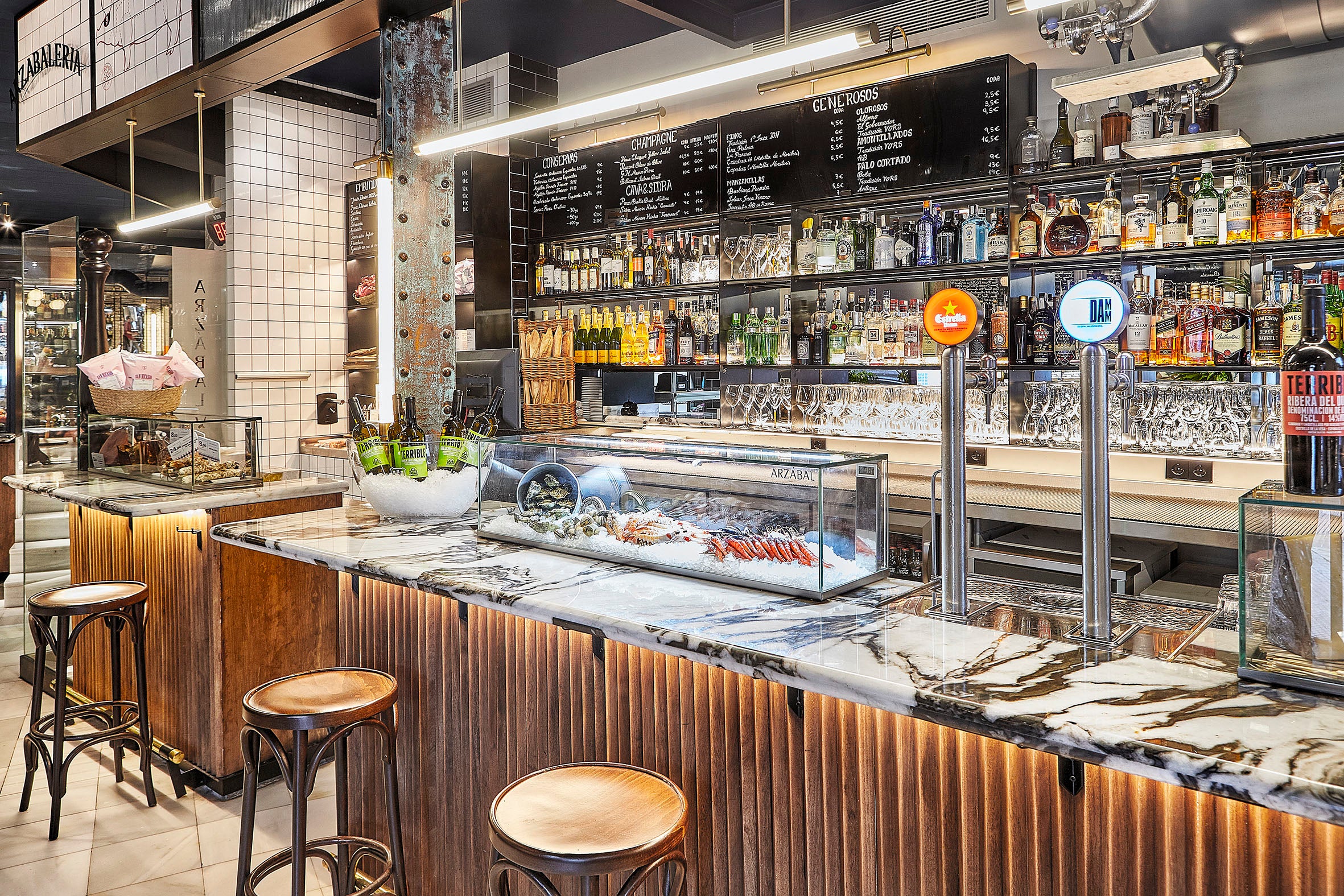 A recent trend of converting the city's old markets to gourmet markets has injected new life. The best of the bunch is Mercado San Miguel at the back of Plaza Mayor.
On a side street behind Puerta del Sol in Casa Labra, the site where the Spanish socialist party was first founded, locals queue out of the door for a taste of its famous cod croquettes and chunks of fried cod. Best enjoyed accompanied by a caña or a glass of vermouth at the bar.
Chef Angel Leon hit the big time with his out-there seafood, including plankton risotto, when his Cadiz restaurant Aponiente was awarded three Michelin stars a couple of years ago. For a more accessible sample of his food in Madrid, head to Glass Mar, a funky restaurant that doubles up as a cocktail bar by night.
Where to drink
Start the day with a cup of coffee at Hola Café in trendy Lavapies. The speciality coffee roaster and coffee shop is run by the 2016 Spanish barista Champion Pablo Caballero and 2017 Spanish roasting champion Nolo Botana. They serve a delicious single origin coffee along with a rotating selection of guest brews.
A perennial favourite, La Venencia bar (0034 914 29 73 13), has an impressive selection of sherry wines, served in a room of immense history and atmosphere. Established more than 70 years ago this is a veritable time warp featuring faded photos on the walls and dust covered bottles. It specialises in wines from Cadiz alongside a selection of olives, cheeses and preserved meats. Photography is not allowed and tipping is a no-no.
Fábrica Maravillas was the first microbrewery in Madrid when it opened in the Malasaña neighbourhood in 2012 and has become something of a fixture and a must-visit for any beer aficionado visiting the Spanish capital.
Where to shop
Hit the boutiques lining Calle Serrano and Calle Goya in the Salamanca area for a serious splurge. The area north of Gran Via and towards Alonso Martinez, pedestrianised in recent years, is a popular destination for more urban and mainstream brands.
Steps from Puerta del Sol you'll find not one but two El Corte Ingles, the well-known department stores, which also have well stocked supermarkets.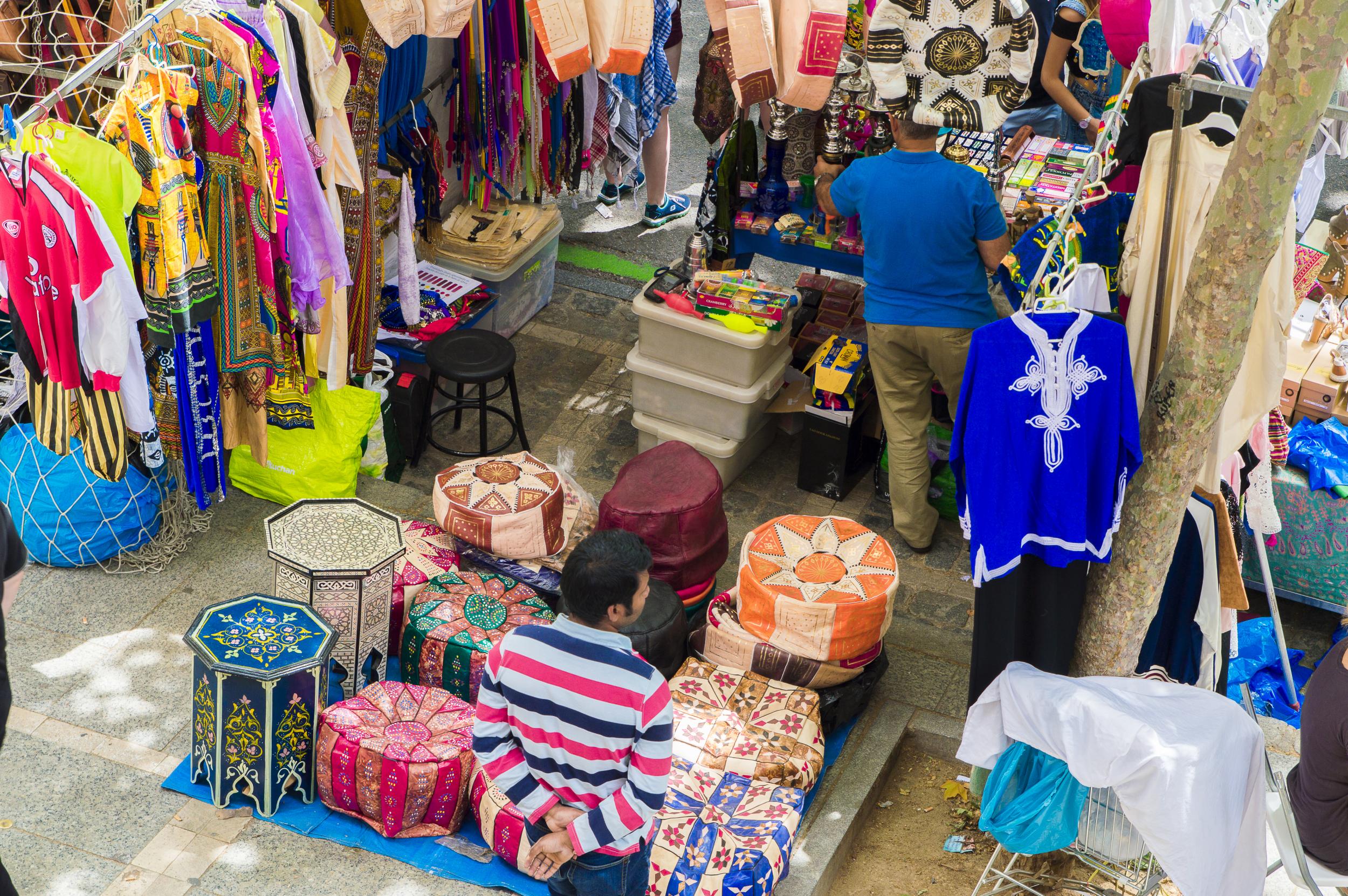 Refreshingly, many independent specialised shops remain in the Spanish capital. From handmade fans at Casa de Diego, which has traded for more than 200 years, to the incredible wine section at Lavinia.
On Sundays, the Rastro market takes place in La Latina. Spend a few hours perusing the trinkets of the market – there's a decent antiques section – and more importantly share el aperitivo, a pre-lunch glass of wine or vermouth with a tapa or two.
Architectural highlight
Madrid has a fascinating mix of architectures and styles; intriguing modernist buildings sit alongside 18th century structures. The grand public space of Plaza Mayor is among the most impressive squares. Surrounded by immaculately decorated residential buildings, it is best admired over a beer or a coffee at one of the many terraces.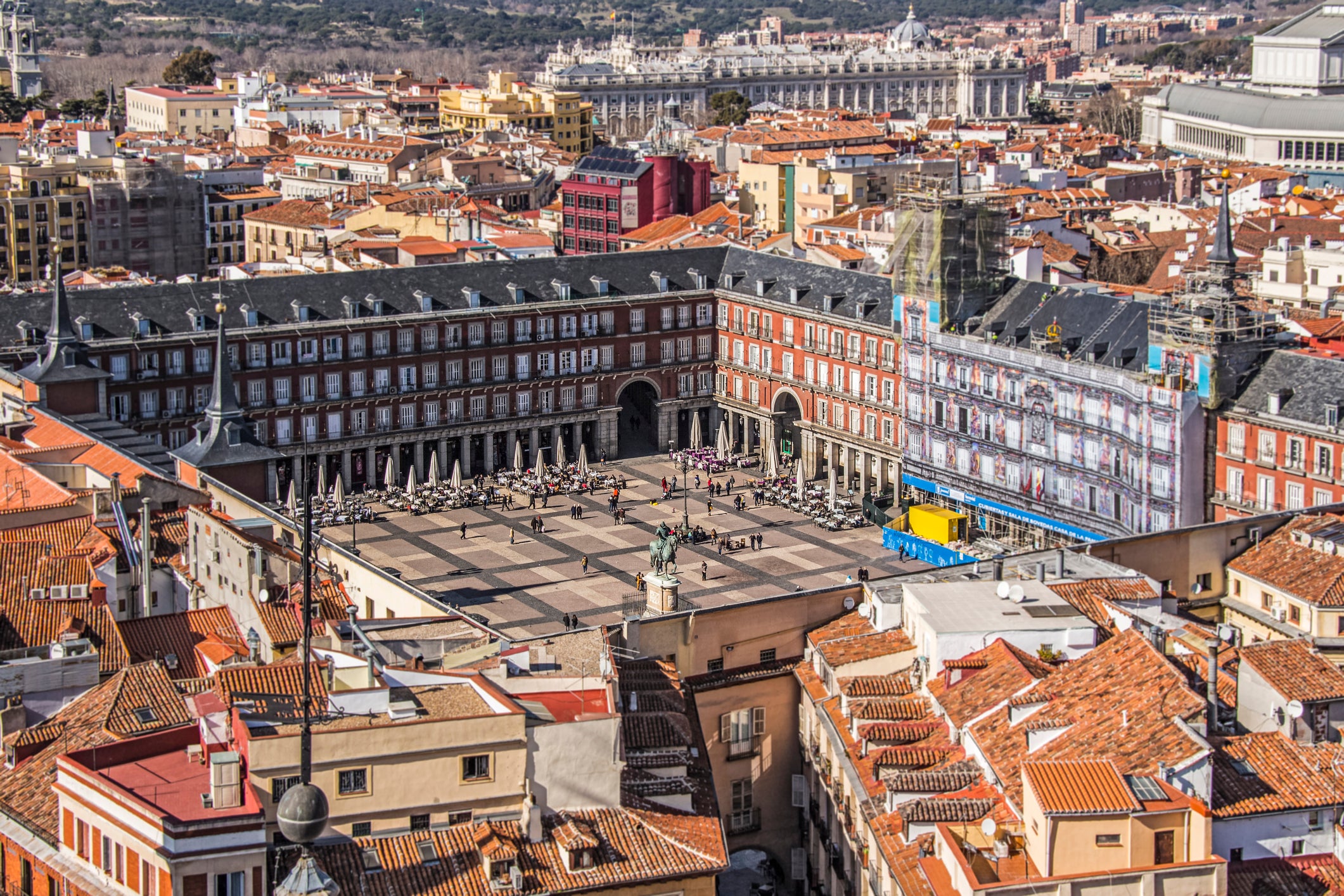 Nuts and bolts
What currency do I need?
Euros.
What language do they speak
Spanish.
Should I tip?
It's appreciated but never expected, and nothing like the 12 per cent often expected in the UK.
What's the time difference?
One hour ahead of the UK.
What's the flight time from the UK?
Two hours from London.
Public transport
As a compact capital, Madrid is eminently walkable, but it also has a comprehensive metro system and the buses are easy to figure out.
Best view
From the rooftop bar at Círculo de Bellas Artes there is a stunning panoramic view of the city. Head to the private cultural centre on C/Alcalá and jump in the lift to the top where you can enjoy a reasonable priced drink while taking in the view.
Insider tip
All the major museums offer free entry on specific days and times; some more generous than others but it is very much worth checking their websites to find out when these times are. For example, the Reina Sofia is free for a couple of hours on weekday evenings and all afternoon on Sunday.