It's becoming a familiar scene – you board the plane and hear the crew announce: "We have a passenger with a severe nut allergy today....
It's becoming a familiar scene – you board the plane and hear the crew announce: "We have a passenger with a severe nut allergy today. We won't be selling any products with nuts or peanuts, and we ask that you don't consume any while you're onboard."
While some passengers grumble about being deprived of their nutty snacks, this announcement can make an already tricky situation marginally easier for people with severe allergies to peanuts and tree nuts.
The problem is that there's no blanket policy on what airlines do to help travellers with these allergies. Each has its own way of dealing with the issue. In fact, just today easyJet announced it would soon be serving zero nut products on board (including "reformulating" baklava so it doesn't contain nuts).
But what airlines generally agree on is that they cannot guarantee a nut-free environment – nor can they prevent other passengers from eating nuts and peanuts during the flight.
What can passengers with these allergies do?
The onus is on passengers at every stage – from booking to boarding – to keep the airlines informed of their allergy. EasyJet and Jet2, for example, offer the option at the booking stage. Tell the staff at the gate that you have a severe nut or peanut allergy, and when you board the aircraft, inform the cabin crew. Airlines including easyJet, British Airways, Jet2 and Ryanair will make an announcement to other passengers and can suspend the selling of nuts and peanuts while you're onboard.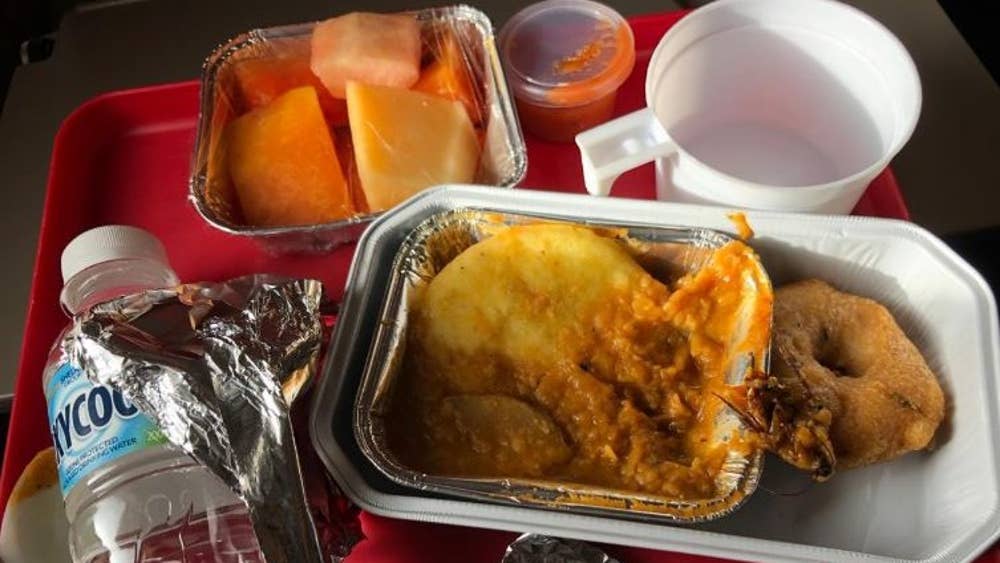 Check airlines' policies carefully
Not all airlines are accommodating. Two siblings with severe nut allergies were told by Emirates last year to sit in the cabin toilet to avoid exposure to cashews served with the meal. The airline's official policy is: "Nut-free special meals are not available. Nuts are served on all Emirates flights, either as a meal ingredient or as an accompaniment to drinks. Therefore we recommend bringing your own meal onboard if you have nut allergies. Other passengers may bring food on board containing nuts, and traces of nut residue oils could be passed on to other surfaces of the aircraft like seats, as well as via the air conditioning system. For your safety, if you have nut allergies we recommend discussing your travel plans with your doctor before flying with us."
Jet2's policy warns: "If you carry medication for nut allergies, such as an EpiPen, it is very important that if you bring this with you on board the aircraft. If we are made aware of an allergy and you are not carrying your required medication, you may be refused travel."
Some airlines, including Air Canada, offer buffer zones for allergic passengers to minimise exposure to nuts and peanuts from other passengers. Non-allergic neighbours will be told not to eat these foods but there won't be a general announcement made to all passengers. Let the airline know at least 48 hours before the flight if you would like a buffer zone.
Can't we just ban nuts from all flights?
This would be impractical for many reasons. Virgin Atlantic, for example, says that "peanuts are never knowingly included in our meals", but it cannot guarantee that the food has been prepared in a nut-free environment.
While some people worry about the possibility of being affected by airborne allergens, there's the greater problem of other passengers eating nuts and peanuts in the airport before boarding the plane – and then leaving the residue inside the aircraft.
Lynne Regent, the CEO of the Anaphylaxis Campaign, says: "It's our opinion that these allergic reactions are most likely caused by skin contact. A study presented to the British Society for Allergy and Clinical Immunology showed that peanut protein doesn't become airborne easily, and it's unlikely that you can receive significant exposure to this. Therefore, inhalation of peanut dust is less likely to be the cause of reactions.
"It is possible that you might be at the high end of the risk scale. We advise that you check with your doctor before flying, and to ask the airline not to have nuts or peanuts on the flight."
How can you minimise the risk of contact?
Bring antibacterial wet wipes to clean the tray table, arm rests and seats (use disposable gloves if you're at the high end of the risk scale), and pack hand sanitiser. Some airlines allow you to board earlier to give you time to do this.
British Airways has some useful advice: "Your epinephrine/adrenaline auto-injector should be carried in your hand baggage. Take an emergency treatment plan and a letter signed by your doctor with you to minimise delays at airport security."