High and healthy: an eco-minded break in Italy's South Tirol The Dolomites take centre stage in a region where Italy meets Austria but there...
High and healthy: an eco-minded break in Italy's South Tirol
The Dolomites take centre stage in a region where Italy meets Austria but there is a sustainable approach to food, wine and accommodation that's eye-catching, too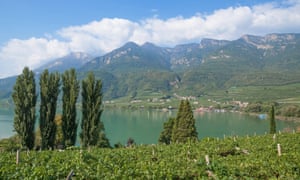 Of all the things I've ever wanted to do in life, being naked and trapped inside a haystack has never been one of them. But four hours into my stay in Italy, that's exactly where I find myself.
I'm in South Tirol – a place renowned for its affinity with nature. Bordering Austria and Switzerland, it is a gorgeous sliver of rocky landscape, peppered with lagoons, spiky peaks and orchard-lined hills. It is also one of the most environmentally sound places on the map, priding itself on its sustainable, eco-friendly practices.
Our first stop – and host of my straw-chaffing induction – is Gargazzone, a sleepy village north-west of the provincial capital, Bolzano. On arrival at Theiner's Garten – which describes itself as a bio-hotel, with a wellness garden, sustainable power and organic produce – I foolishly ask what the most nature-loving Tirolean thing I could do is. The result is to be led immediately downstairs to a room, told to get undressed and lie on a table strewn with itchy hay.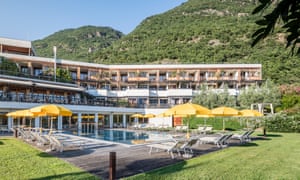 After getting into place, the masseur unceremoniously dumps a further bale's worth on top of me, wraps me in white gauze then leaves my mummified, Worzel Gummidge-esque corpse to stew for 45 minutes. Every 10 minutes, a sinister bubbling erupts from beneath me, and a burst of steam rises to invigorate the aroma of the hay.
"The hay bath is designed to relieve pain in the kidneys and joints," says Stefan Hütter, the hotel owner. "The locals find it relaxing." That's not exactly how I would describe it but after learning not to wriggle painfully around in the prickles, the experience is oddly enjoyable.
When my wife picks me up, we head for a swim at nearby Naturbad (€7 for a day ticket, evening €3.20), a manmade, mountain-enveloped lido, bestrewn with phytoplankton and zooplankton that clean the water organically instead of chemicals. The natural, chlorine-free pool is lush and the surroundings –hill-lined orchards with distant shards of white Dolomite rock – is postcard-perfect.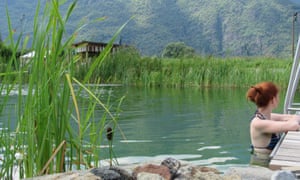 A 10-minute stroll takes us to Kathi's Jausenstation, a family-run restaurant framed by a sprawling rose garden, and popular with radler (shandy)-drinking cyclists. Enjoying some spinach gnocchi (mains from €7) and a glass of Hugo – the elderflower aperitif named after the Bolzano barman who invented it in 2005, we can immediately see how South Tirol's cultural cohabitation works, with staff switching effortlessly between German and Italian and a menu that boasts both schnitzel and spaghetti.
"It wasn't always like that," Hütter tells us later. "Twenty years ago, if you were an Austrian girl and you brought an Italian boy home, there could be trouble."
Until the end of the first world war, South Tirol was part of the Austro-Hungarian empire but was annexed to the Kingdom of Italy in 1919, as a reward for joining the allies in 1915. After an initial wave of Austro-German persecution, and a brief period of German occupation in the latter stages of the second world war, South Tirol has steadily recovered and now exists as a harmonious, extensively self-governed province.
"The rest of Italy is 10 years behind what we are doing here in South Tirol," Hütter claims, referring to the region's upsurge in ecological thinking. "The other week I bought an organic ice-cream and some Italians said 'Why would you buy an organic ice-cream? Italian ice-cream is the best in the world as it is!'"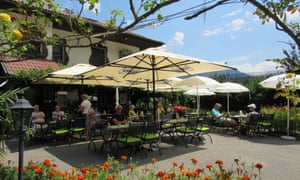 The province is indeed about as sustainable place as you will find. Thanks to large sums of public investment, a third of the region is now powered by various sustainable sources – hydropower, biomass, biogas, as well as wind and geothermal energy – and the new, back-to-basics approach to farming has transformed the region into a vibrant organic food community. What is particularly noticeable though, is the amount of green travel – bikes and ebikes are everywhere, and there are more than 80 public charging points for electric cars.
Our next stop is south at Caldaro, a grape-growing municipality in the heart of South Tirol's wine region. After a quick stop at Lago di Caldaro – a swimmer-filled lake by morning, windsurf-flipping spectacle by afternoon – we arrive at one of the three vineyards of Alois Lageder – the legendary wine producer, who takes us on a personal tour. As well as being regarded as one of South Tirol's greatest exporters, his winery's set of strict biodynamic principles is what beds him nicely into the landscape of this eco-conscious region.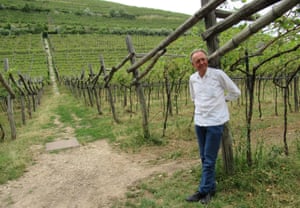 We sample a quintet of refreshing whites, then two of the region's indigenous red grapes – very light and drinkable varieties known as schiava and lagrein. It is when we reach Lageder's favoured pinot noir, however, that his tour reaches its crescendo, his right hand shooting out theatrically with each describing word as he lauds "the complexity … the power … the finesse!"
We finish the day with a short hike to the Maurerberg alpine refuge (€48 a night) in San Martino in Badia, in the heart of the Dolomites. After driving up the mountainside's hairpin bends, we park at Passo delle Erbe, then climb steeply for 60-minutes. It's arduous, but when we reach the top, the views are spectacular. Whitewashed pillars of greatness stand before us, with unspoiled, sun-kissed nature all around.
Our tour ends in San Candido, an old market town in the Puster valley. It's also known as a green valley; each village has its own eco energy plant and our hotel, the Leitlhof, is powered by the hotel's wood chip cogeneration plant. The town itself is a charming clutter of churches and Austrian bistros, flanked by the imposing 3,000-metre Haunold mountain, replete with exciting mini-bobsleighs we giddily spend the afternoon whizzing down (€20.90 for three rides).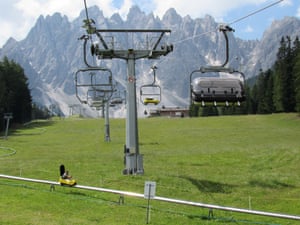 Before hitting the town, we make a brief stop at nearby Lago di Dobbiaco – a lake enveloped by rocky peaks and bordered by a huge nature reserve. Around it, couples picnic, but no one's swimming. We dip a toe into the inviting-looking emerald water – it's freezing. We quickly rejoin the throng and settle for a sandwich on the bank instead.
In the evening, we burrow our way inside bustling vinotheque Uhrmacher's Weinstube. It's the undisputed local hub and has customers, and their dogs, spilling merrily out onto the streets. Pouncing on two free stools at the bar, I enquire why one of the white wines is so affordable (€1.40 a glass). "Michaelstrunk is from Bolzano," the barmaid tells us. "It's got a very neutral taste – but it's what the locals drink."
She pours us a couple of glasses – it's much nicer than "neutral" – and as one man outside strikes up an accordion, almost simultaneously another starts playing guitar ballads in the saloon bar. With traditional Austrian folk hitting one ear, and Italian love songs the other, it seems a rather poignant summary of the trip as a whole: drinking delicious local wine in a rustic pub, surrounded by a friendly coupling of cultures.
THREE MORE SOUTH TIROL HIGHLIGHTS
Taser Alm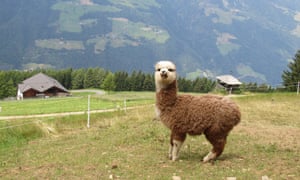 At 1,450m above sea level and accessed by cable car (€10.70 return), this European Eco-label-awarded farmstead near Merano is an idyllic retreat, with high ropes and a great kids' adventure playground. The view is a heavenly canvass of mountains and hills, punctuated by cute alpacas and llamas roaming the upper pastures.
Must do: Order the restaurant dumplings with locally forested chanterelle mushrooms. That said, make sure you don't slice them. "There's a South Tirol saying that when you use a knife, you're also breaking the chef's heart," the waiter will tell you. "It means the dumplings are too hard." They're really not though; they're gooey and delicious.
• taseralm.com
Campo Tures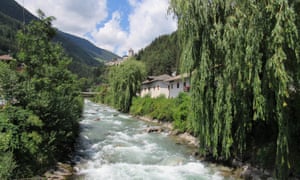 This sleepy Tirolean town is abundant with castles and churches but is also great for incredible hikes, such as the walk to the Riva waterfalls. However, its main allure is the tranquil atmosphere.
Must do: A night in the Feldmilla Design Hotel (doubles from €134pp B&B). Beneath the gorgeous 13th-century Tures Castle, this climate-neutral accommodation nuzzles the River Ahr, a relaxing stream that powers the hotel and most of the town, too.
Casere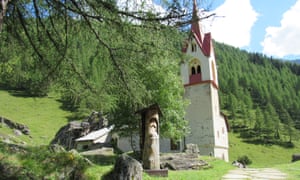 This village close to the Austrian border is lined with brightly clothed grandmothers sat in front of their houses industriously embroidering kloppeln (tablecloths). It is also the home of the famous, though miniscule, Chisetta di Santo Spirito (Chapel of the Holy Ghost).
Must do: Go round the back of the chapel. Wedged into it is a giant rock, the two separated only by a crack. It's said that if a person successfully passes through, their sins are forgiven. It takes a bit of unholy body manipulation to manage it – but if you do, you'll feel a small, slightly cramped sense of accomplishment.
The trip was provided by the South Tyrol tourist board, suedtirol.info
Looking for a holiday with a difference? Browse Guardian Holidays to see a range of fantastic trips