Eng. Maqbool Al Wahaibi, Chief Executive Officer, Oman Data Park talks about the advent of professional services for digital enablement, its impact on businesses,...
Eng. Maqbool Al Wahaibi, Chief Executive Officer, Oman Data Park talks about the advent of professional services for digital enablement, its impact on businesses, economies, and individuals; and the need for a dynamic collaborative national strategy.
(September 1, 2021 – Oman) – Oman has embarked on its journey for business transformation and technological innovation as part of its commitment to fulfilling Vision 2040. However, while with policy reforms and state-of-the-art infrastructure the country's output is on a growth path, a unified approach and synergetic strategy are what is required to transform Oman into a skill-driven society. This integrated strategy will catalyze Oman's quest for joining the fourth industrial revolution and become more relevant in the international marketplace. Staying ahead of the curve by imbibing an innovation culture, building an ecosystem, and developing skillsets at institutional levels will ensure that Oman becomes a vital part of the fourth industrial revolution. Oman needs to take advantage of the opportunities that it will offer, and should be prepared with a responsive strategy that includes public, private, civil, and academic sectors to stay competitive, innovative, and emerge as a global leader.
To fulfill the objectives of Vision 2040, Oman needs a constant assessment to align digital investments with business objectives and keep pace with the innovation advancements required to stay competitive. As we advance into the post-pandemic environment, nations, specifically Oman needs to build a collaborative strategy that will not just make us more competitive but at the same time prepare for the unforeseen future by harnessing the potential of new technologies. While the main revenue streams have already been identified for the Sultanate that includes fisheries, logistics, tourism, and mining, with the help of the ICT companies and professional services, these streams can be equipped with the right resources using efficient, economical, and sustainable business models.
A Collaborative national strategy 
Here are the elements of a cooperative approach that will help Oman benefit from the service providers and ICT companies; and enable the digital enablement process across sectors.
Workforce Enablement
Digital trends affect the ways professional services are delivered; and enterprises that deliver such services exist due to the expertise of individuals with specialized skills, knowledge, and domain expertise. Skills – at large remain the most crucial element for the development of a nation. However, constant up-gradation and innovation are threatening and changing the need for specialized skills. New technologies such as robotics and artificial intelligence are replacing and automating processes and jobs. Educating the youth and emphasizing a renewed curriculum that encourages tech learning, innovation at the grassroots levels will help develop a future-ready workforce and enable nations to build resources consisting of the right skills. Courses that offer cross-disciplinary degrees must be introduced in institutions to create a pool of talented researchers and innovators. SMEs, private sectors, and start-ups must leverage new technologies for skill up-gradation and educate employees on futuristic technologies such as machine learning and critical thinking, to name a few.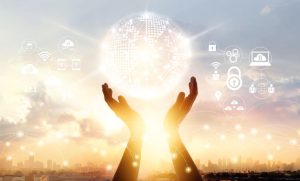 Business Compatibility 
Minimizing administrative and legislative burdens on firms, regularizing and maximizing billable time, determining resources and skill gaps will help to better manage projects and improve profitability. For businesses to thrive and mature, an ecosystem of service partners, non-reliability on foreign resources, creating a sturdy infrastructure, enabling and creating glocal opportunities is a mandate.  While the professional services industry is changing rapidly, and the current economic environment is accelerating these changes, firms will need to incorporate digital technologies in their strategies, increase digital agility and respond to the changes in customer demands. At Oman Data Park, we are continually working with different sectors such as banking, energy, healthcare, and utility to develop and synchronize their digital capabilities. However, these sectors need to gear up and create agile methodologies and renovate their business models. The government needs to implement streamlined measures, focus on foreign direct investments by encouraging participation from the public-private partnerships and revise legislation for data hosting services to enable the service providers to offer enhanced services locally. It will also help to resolve issues such as data security and theft.
Customer Experience
The focus needs to shift from more product-centric to a more service-centric delivery approach. It is important to evaluate how the technology engages customers and external stakeholders and delivers a consistent and engaging customer experience. With changing consumer behavior, professional services firms must adapt to these changes. Simplifying processes with automation, greater transparency, and leveraging the right solution with customer outcomes in mind and complementing machines, and work with new applications will help firms deliver better customer experiences. Similarly, a hybrid work model will help maximize productivity, engagement, and collaboration.
Operational Agility
It is time to move away from the waterfall methodology to a more relevant IT services delivery model. To meet the global delivery standards and to grow the investor pool, it is essential to look at the technology infrastructure. A scalable, innovation-led model, persistently reviewing the data security parameters and IT environment will help in business expansion, without increasing the risk of data loss or any threats to strategic operations. Professional services firms need to find better ways to consolidate data sources and identify challenges and opportunities by using real-time key data and analytics for streamlining operations. New research centers and strengthening research groups will foster a culture of innovation and entrepreneurship across the country, thus offering access to proper technologies and resources, which are the building blocks of the fourth industrial revolution.
Technology Integration 
The Fourth Industrial Revolution involves the utilization of new innovative technologies such as artificial intelligence, cloud computing, robotics, 3D printing, the Internet of Things, advanced wireless technologies to name a few. These technologies such as artificial intelligence are helping transform businesses and creating disruption. The health care sector, for example, post-COVID-19 is at the forefront of leveraging AI for data analysis. Similarly, the 5G spectrum has changed the way businesses operate. Innovation coupled with the use of such technologies is revolutionizing the way businesses are operating and creating value for the users, resolving problems, and accelerating the growth of the business across sectors.
At Oman Data Park, we too have been harnessing these technologies to build our cloud data services to meet data security, data confidentiality, and data centralization requirements. We have created our own cloud to preserve valuable client data and have been delivering services of international standards. We are creating an ecosystem with our international partners to localize the cloud component and catalyze the growth and data security for various sectors in Oman. We are also prioritizing our focus on building our artificial intelligence portfolio, thus assembling the three pillars – cloud, cyber security, and artificial intelligence to meet the future needs of our customers.
For Oman to emerge as a digital economy, the task is to augment its technology and innovation capabilities. This can be achieved by supporting the entrepreneurs and SMEs and encouraging them to strengthen and invest in new technologies, urging the business community to reconsider the traditional business models, and by collaborating with the government. The need of the hour is to develop the skillsets and constantly focus on research and innovation.
Source: https://www.oerlive.com/technology/cybersecurity/digital-enablement-for-a-secured-tomorrow/