In a nutshell: A cutting edge, design-led hotel that's very much in keeping with the Edition brand. The neighbourhood Abu Dhabi's lively Al Bateen marina...
In a nutshell: A cutting edge, design-led hotel that's very much in keeping with the Edition brand.
The neighbourhood
Abu Dhabi's lively Al Bateen marina got a shot in the arm with the opening of the Abu Dhabi Edition in November 2018.
The Emirati capital isn't particularly well-known for its edgy design hotels – you're more likely to hole up in a plush, super-luxe skyscraper with suites dripping in golf leaf. The Edition, the brainchild of boutique hotel pioneer Ian Schrager, broke that mould. Situated in the waterfront district of Al Bateen, overlooking the chic marina, the hotel has easy access to a number of casual restaurants and coffee shops overlooking the yachts. Although you could argue the hotel is "downtown", it's some way away from the rest of the city's main sights and you'll have to cab to and from.
The look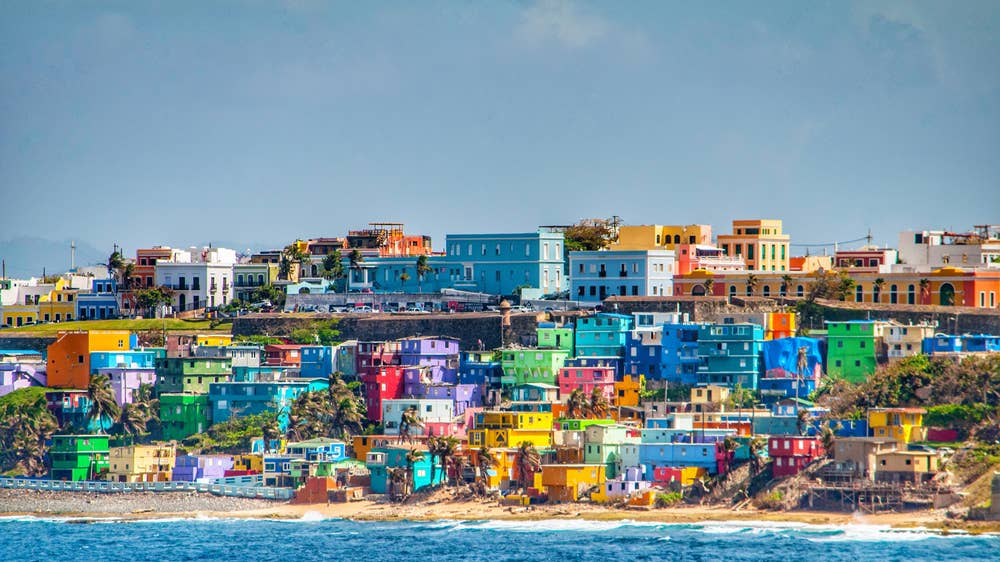 Two glass boxes – the hotel proper and the attached residences – encased with a metal lattice and joined by a bridge make the Edition innovatively recognisable. But as industrial-chic as the hotel appears from the outside, the interiors are a different ball game entirely. A cavernous, five-storey lobby, dotted with cream sofas and elegant walnut tables perfect for quick meetings, is reminiscent of Schrager's belief in the lobby as public space ripe for "socialising". Pot plants are dotted in every available corner, and warm lighting (segueing into candles at night) make it feel like walking into a very tall botanical garden. The kinetic artwork that jives above the lobby reinforces its design factor.
The vibe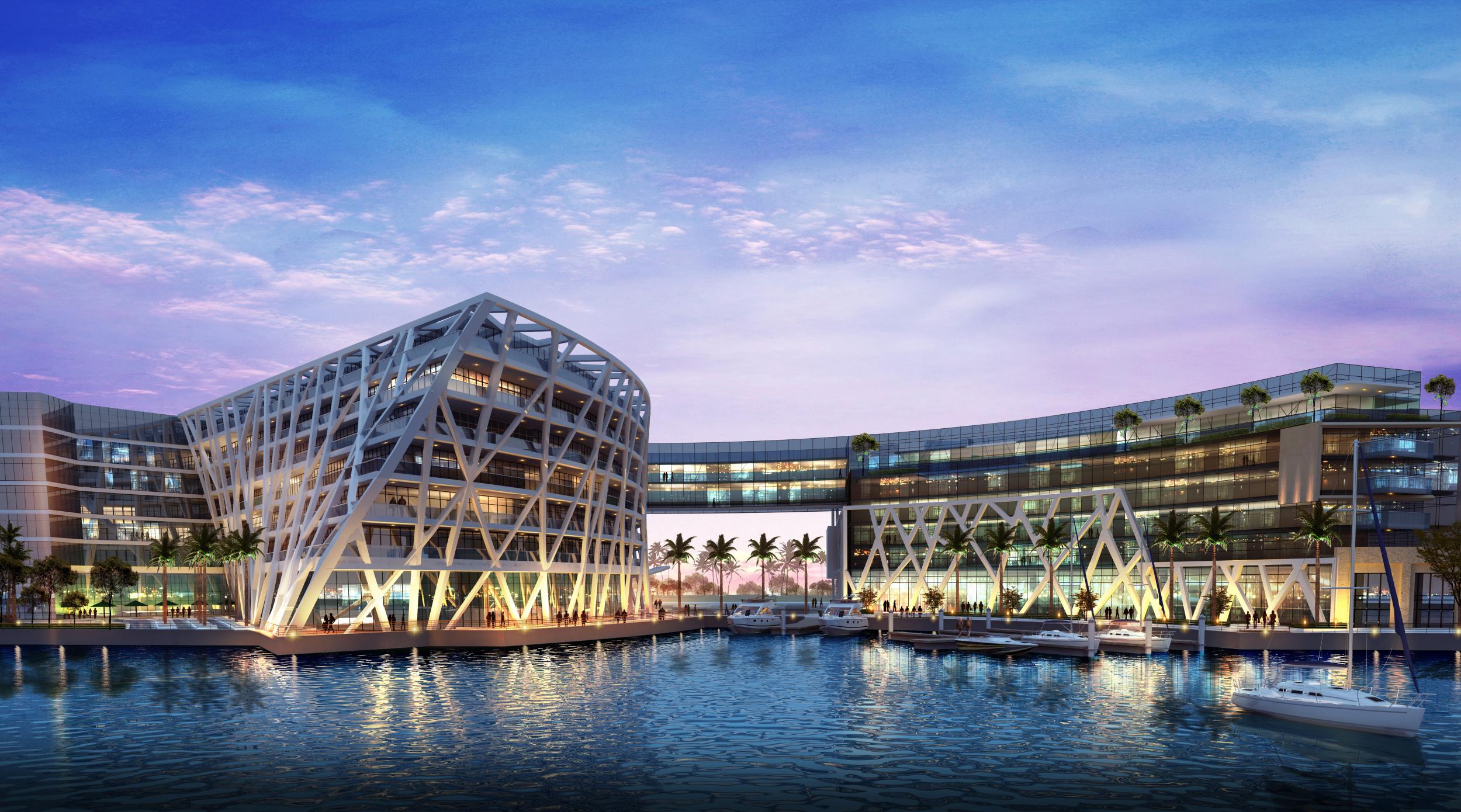 The hotel manages to tread a unique line between sexy, buzzy and totally calm, helped by attentive staff. There's a gold leaf billiards table at the back of the lobby, where come evening groups of friends are sinking balls (alongside drinks from the nearby bar). The restaurants and bar are destinations in their own right (see below) and feel playful and desperately cosmopolitan. Pared-back rooms are muted and blissed-out though, so the too-cool-for-school vibe never overwhelms the experience.
Bed and bath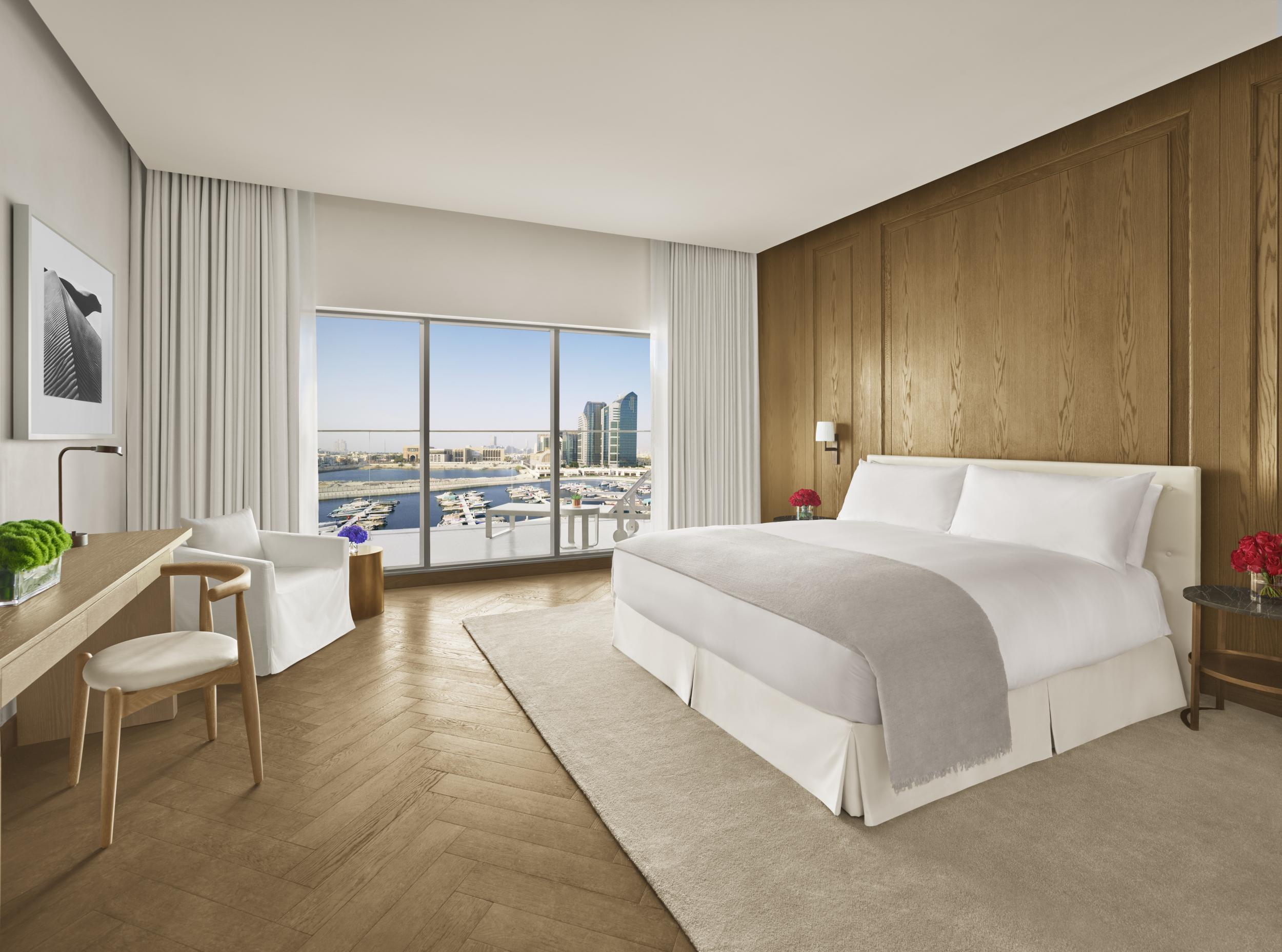 Light oak wood, lots of glass (some rooms come with smashing marina views with generous balconies), gauzy drapes, low tables and soft throws give the rooms and suites a muted luxury feel. Pot plants add a splash of colour. You can't help but feel relaxed when scrunched up in crisp white sheets and dove-grey blankets.
Glassy, glossy bathrooms come with bleached-white baths, double sinks and cosy white bathmats – and bespoke Le Labo toiletries.
Food and drink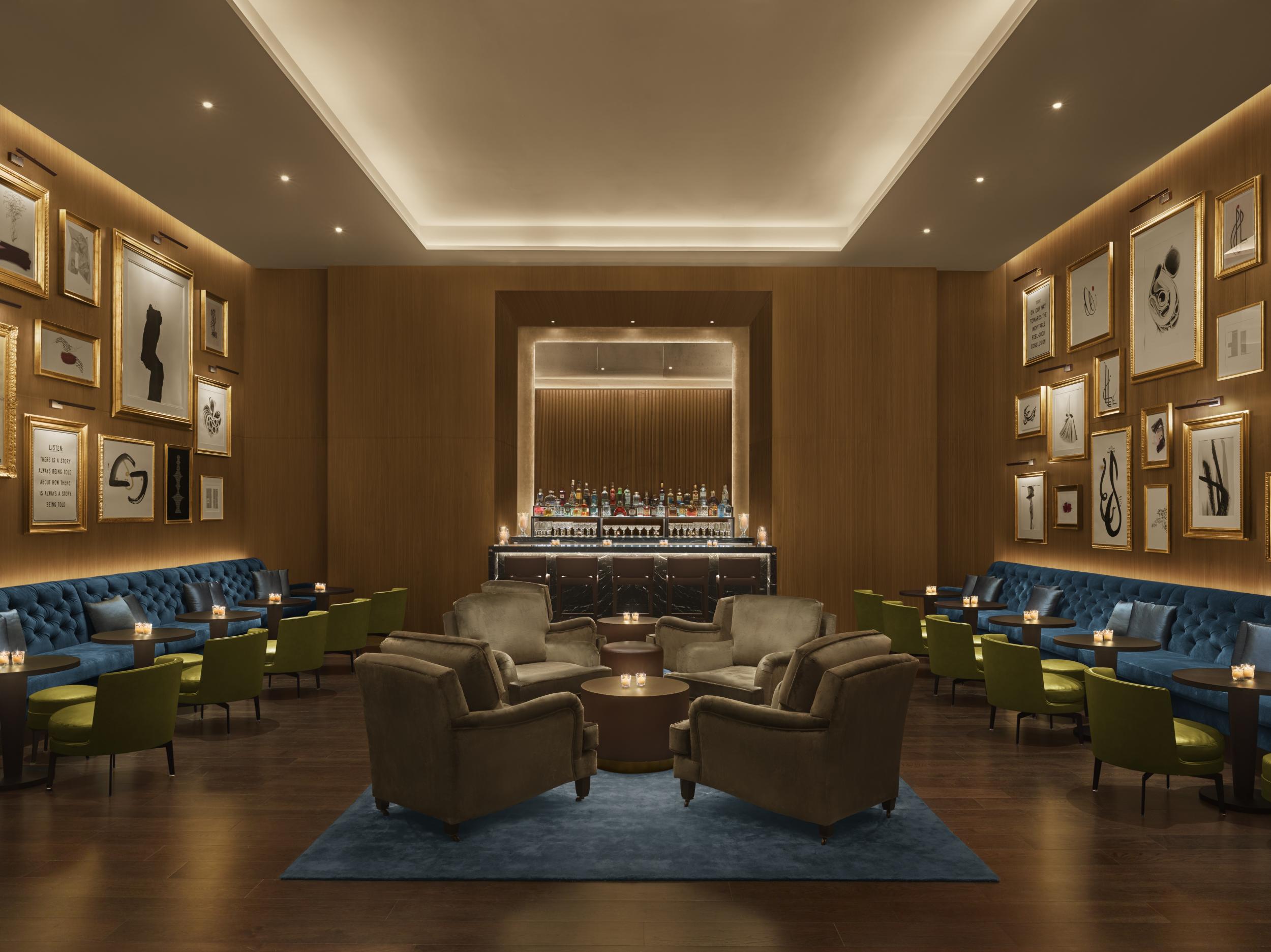 No surprises that a hotel spearheaded by the founder of Studio 54 has a zinging line-up of destination restaurants – overseen by British chef Tom Aikens – and bars. The Oak Room steakhouse, the crown jewel and one of the best places you can spend a weekend evening, has a "meat sommelier" alongside the regular wine sort, plus an eclectic soundtrack (on my visit Pulp and the Spice Girls both made an appearance). Its racing green velvet banquettes feel deliciously decadent – as does the selection of knives diners can choose from. Go for a nightcap at Library Bar opposite, where steaks are replaced by craft gin cocktails and literary art.
Market, also by Aikens, is the hotel's cutting-edge healthy restaurant: bright lighting, an excess of pot plants and white marble accompany a menu of poke, Buddha bowls and detox juices. The Mediterranean Alba Terrace does a cracking Friday brunch – perfect for alfresco eating when the temperatures aren't nudging sky-high figures.
Pools, spas and public areas
The lobby is the crown jewel of this luxe boutique, and is a lovely place to hang out at any time – not just when checking in, out or waiting for a taxi. The fifth-floor "hidden" lobby is a better choice if you need to catch up on emails, with oak wood desks and power points.
At the back of the hotel is the (admittedly compact) main pool, surrounded by loungers and – more importantly – with a poolside bar. Due to the angle of the hotel, the pool catches the sun in the morning.
The seven treatment rooms of the luxurious spa are trussed up in the same light oak wood floors as the rooms, plus there are two Hammams, a facial room and a couple's massage room, complete with private relaxation area.
Nuts and bolts
Room count: 198 rooms and suites. There are also 57 long-term residences.
In the bathroom: Le Labo toiletries.
Wifi: Free.
Minibar charges: N/A
Disability access: Yes.
Pet policy: Not allowed.
Bottom line
Best thing: Easy access to some of Abu Dhabi's best restaurants. The steakhouse, Oak Room, is a truly special night out.
Worst thing: The large lobby, which seats 91, might be an Ian Schrager signature – but when empty, it feels a little cold and unfeeling.
Perfect for: Hot young things who want an edgy, sexy hotel.
Not right for: Those who want to walk everywhere – you'll need to rely on cabs.
Instagram from: The Library Bar.
Room rate: From 750 AED (£156), room-only.
editionhotels.com/abu-dhabi